Also chronicled on the 3rd generation forum, but I'll go ahead and summarize it here as well since it qualifies.
This, of course, would be the "other woman" to the "namesake". My wife doesn't mind, because she knows if I'm spending time with the car, she knows where she can find me. The '57 has proven to be very tolerant about this "open relationship" as well.
It actually started in 2007 with my wife asking, "What would your dream car be?" Well, several things went through my mind, but what I determined to be common factors were LSx engine and manual transmission. Vettes? Too cliche. '04-'06 GTO? That seemed to hold more promise, but they are heavy and a bit pricey. 4th gen f-body? Maybe. Well, I thought, why not just put an LS1/T56 in my Berlinetta? So, that was agreed, and a drop-out from a 2000 Camaro SS was located and purchased.
After it arrived and occupied the garage stall previously owned by my wife's Buick Century, I started having misgivings about taking apart the Camaro, especially since my son used it for his drag racing car, and it was my DD. So, I ran the possibility of finding another body to put the LS1/T56 in up to the flagpole, and that was saluted. Long story short, this 2nd '82 Berlinetta was found on eBay in the California east Bay area, and brought home. Mostly rebuilt - probably isn't fair to call it "restored", since the interior isn't factory materials - but it was nicely done, and not having to do interior or bodywork was very attractive. The price was probably less than what it would cost to have it painted.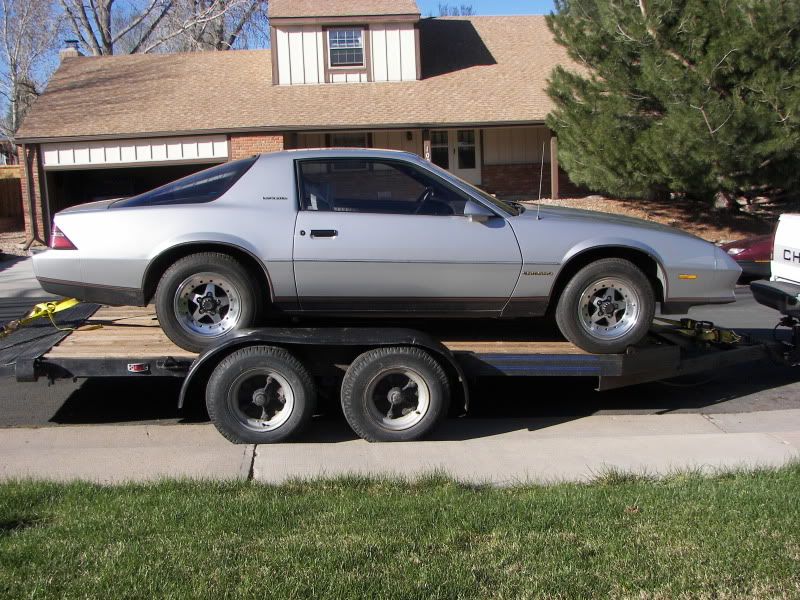 (That is actually a recent photo, but is the best I have available to post to show its overall appearance and condition).
The original, 304k mile LG4 305 and TH200C 3-speed automatic transmission were pulled in Feb '08. The "plan" was to have it ready for a stick shift class at the track for the start of the season in April, but that proved ridiculous. I had a pretty long grocery list made out - LS1/T56, obviously, but it was an original auto trans car, so needed clutch pedal and hydraulics installed. UMI subframe connectors and Wonder Bar, disk brake rear with new Eaton posi, 4.10 aftermarket gears and 28-spline axles, aluminum support cover. Unique G-Force "ladder bar" conversion rear suspension to eliminate the torque arm (mostly to free up room for dual exhaust). Long tube 1-3/4" primary headers w/2-1/2" collectors ceramic coated. LS6 intake manifold. LS7 clutch assembly from sdparts.com. Front engine swap mounts from Spohn, tranny crossmember from Skulte Performance that accommodates routing exhaust under it without sacrificing ground clearance. LS1 f-body plastic tank and pickup/pump (which meant running new fuel lines, especially since the car was originally carb'd with engine mounted mechanical pump). A Covan instrument panel was procured with aftermarket gauges.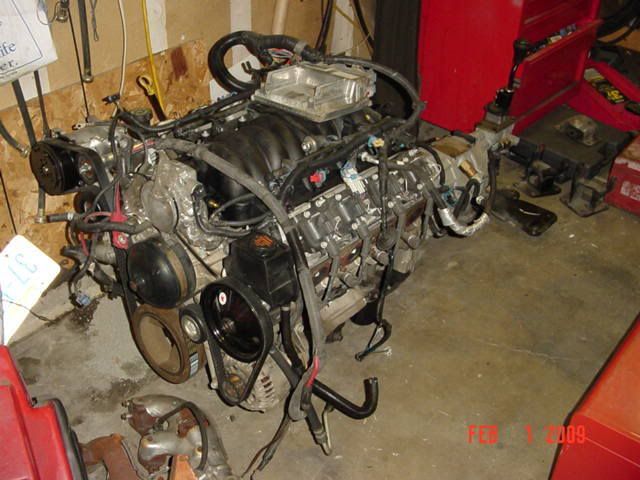 With work travel, illness in the extended family, and racing, work progressed slowly. The K-member had to be notched for AC compressor and oil pan clearance. Pedals mounted, holes cut in the firewall for clutch MC, fuel lines routed.