"Old Red" - had the car since Christmas break 1971, when I was a junior in high school. It was my buddy's uncle's car, whose wife had run it into the back of a pickup on a gravel road in Nebraska. It sat in their farmyard for 3 years when my buddy suggested I look into buying it and fixing it up. My dad & I went up to talk to him, he was flabbergasted that we would want it, and said, "Would $50 be too much for it?" It didn't run, as the radiator had been pushed into the water pump. We took the farm truck up to their place, backed it up to a wash-out and pushed the car into the truck; hauled it home and reversed the process there. Their insurance company had totaled it, so we went to the county court house, and lo and behold, they hadn't processed the scrap title so we were able to get a clear title transfer on it.
My dad found another '57 parts car (blue) for $50 that he actually drove home. The red car was in overall better shape, so the front clip came off the blue car and onto the red one. I pulled the 283 "power pack" at the same time and gave it rings, bearings, valve job and carb kit. It was on the road in mid-February. And, yes, my grades did suffer.
The original 283 puked a piston a year later, so a 327 shortblock went in. That spun a bearing during the summer of '73, so I arranged for a local hot rodder to build it up while I was in Army basic training. His machine shop screwed up and got the wrong pistons for it, so he sold me a 302 clone (327 block, 283 crank) he had built with pop-top forged pistons, LT-1 angle-plug heads & solid lifter cam. No guts below 2500 RPMs, but after that it would scream! I was shipped overseas the next spring, so my dad stored and drove it until I got back in '76.
I drove it that way until 1978, when I got a restoration bug. I found a 283 and cast iron Powerglide to put back in it, got the engine running and found out the tranny was no good. I got married and was sent over to Germany, so it was stored back on the farm until I got back in '82. I found another Powerglide and started driving it as a family car while I finished my Army "career" and started college and as the family grew.
My first job after college was in San Diego, and I drove it to work (20 miles each way) until '91 when the 3rd Powerglide crapped out. I figured it was time for a later transmission, but couldn't fit a proper starter to the 283, so that's when the restoration was abandoned and the current path began with a 350/TH350. Another long tale of bad parts and misguided combinations, but at least it ran. We moved to the Denver area in late '94 and I continued to drive it to work. In '97 I decided to fix the rings that were never right in the 350, got some World heads as well, but it never made it back in the car. Without going into details, I had a rebuilt '66 396 and TH400 and decided to put them in there in '98. I had been sort of racing the car since '96, and the 396 took a full second off of the ET from mid-16's to mid-15's. Stock rebuild, q-jet carb, stock torque converter, open 3.31 gears. I didn't figure the '57 rear would hold up long, so I found a '71 Nova 8.2" 10-bolt, 3.08 open, and put that in there.
As I raced more regularly and got a little better at it, modifications evolved. Holley carb, more stall, shift kit in the tranny, Power Trax unit, 3.73 gears, until the car was running in the high 13's. The 2004 season was so-so, but I made it on the track's Division 5 finals team for the race in Topeka that year. Not much went right that weekend until the big race on Sunday, when to my amazement I didn't lose a round that day. That qualified me for the NHRA Summit ET finals in Pomona in November, an experience of a lifetime. I did lose one round that Sunday, the final round, but hey, can't win them all.
The current configuration is the same rebuilt bottom end from 1997, .030" over forged TRW's with reduced pop top (from 10.25:1 to 10:1-ish), .010" under crank with Clevite bearings, self-ported 702 heads with 2.06/1.72" valves (hardened exhaust). Current cam is a Comp XS282S solid lifter. RPM Air gap intake. Carb started as a Holley 650 double pumper, has Proform main body, converted to E85 with Quick Fuel Technology metering blocks and alcohol throttle plate. The ignition is an MSD Pro Billet small cap, Blaster coil, and MSD Digital 6 box. Tranny has been rebuilt with Raybestos frictions and TCI shift kit, ACC Boss Hog 2800-3200 9" converter (stalls at 3500 behind this engine). The rear now has an Auburn posi and 4.11 gears after the stock carrier bearing support broke off last August. Tires are Hoosier 27-10.50x15 Quick Time Pro DOTs on 15x8 Vette steel Ralleys with tubes & rim screws. Launch at 2800 RPMs and shift at 6400. Best 1/4 mile is 13.15 @ 102 MPH at our 5800' elevation track.
For PINKS All Out filmed at Bandimere in 2008, it had to run 12.99 or quicker, so I put on a 100-shot Edelbrock nitrous kit and rejetted the fuel for E85. It ran a best of 11.95 @ 111 MPH (with the 3.73 gears - probably lead to the demise of the stock carrier) on spray. I was chosen as a "defender" in a run-off to the 16, but didn't make it to the 8.
Future plans include a better torque converter, possibly with a TH700 or 4L80E transmission; 454 block with current crank for 427 CI, more dome for higher compression to take advantage of the E85, and better heads. This should put it around mid-12's at altitude, high 11's at sea level NA. Not sure when this will happen, though.
I don't have many pictures, especially digital or from the earlier years. My avitar is from the NHRA website for the 2004 Pomona finals. The pic below was taken by my son during the first round in Pomona in 2004 using my old Olympus OM-1 I bought when I was stationed on Okinawa. It's one of my all-time favorite photos of the car.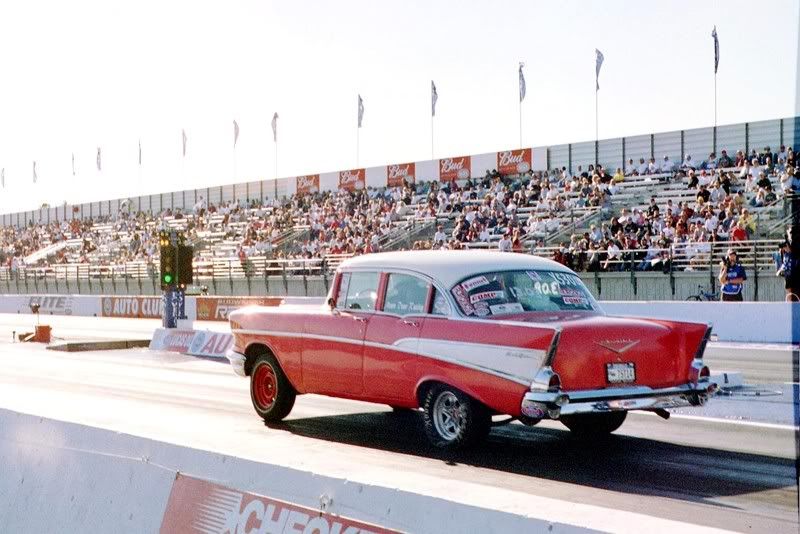 Oh, the "namesake" part - my username was my original AOL name back in the late 80's. It's a reference to the car, not my year of birth or the size of the engine.