Discussion Starter
•
#1
•
I know many of us are always looking for ways to save a few dollars. Unfortunately, that old saying, "It must be too good to be true" rings out in many situations where we try to save money on car parts. We're building the engine in our 2001 Corvette. I happened to be on EBAY and ran across a listing for what sounded to be the deal of the century. A SET of CNC ported LS1 heads for $699! These are brand new castings and are marketed under the brand "Speedmaster". A quick search for Speedmaster led me right to Procomp. Apparently, it's an "alias"...
LS1 LS2 LS6 5 3 5 7 Fully CNC Race High Performance Aluminum Cylinder Heads | eBay
Well, the flow numbers certainly looked good, so I called them up...About 5 times before I got an answer. In the mean time, I called Procomp directly. I was told they weren't aware of the EBAY listing but it sounded like their heads, based on the information in the ad. I was also told that the cheapest heads I could buy direct were $610 EACH! When I finally got an answer for the EBAY listing phone number, at first I was told I could buy them without springs for $499. I talked it over with my Fiancee and called back the next day to order. I was told they couldn't sell them without springs. The lowest they would go was $650. With shipping, it came to $690. I ordered a set and my PAYPAL was hit for $590. The PAYPAL recipient was PROCOMP ELECTRONICS! I called them back to tell them about the error and was told they would send a PAYPAL request for the other $100...LOL
Here's where it gets really interesting... My Fiancee owns her own performance parts store. She called Procomp to check to see if she could become a vendor. They offered her a hell of a discount and said they would sell her a SET for $590 shipped. She asked several times, "These are the same heads with the same flow numbers listed on EBAY, correct?" She was reassured that they were. Since I thought the EBAY listing was an independant shop selling the Procomp stuff, I called back to cancell my order and just order direct. When the guy asked why I was cancelling, I told him my Fiancee was buying them direct from Procomp for $590. He sounded puzzled and said, "But, we ARE Procomp." This confirmed my PAYPAL withdraw.
Finally a week later, the heads arrived. The CNC work on the chambers wasn't very good. You could see where the tool missed spots.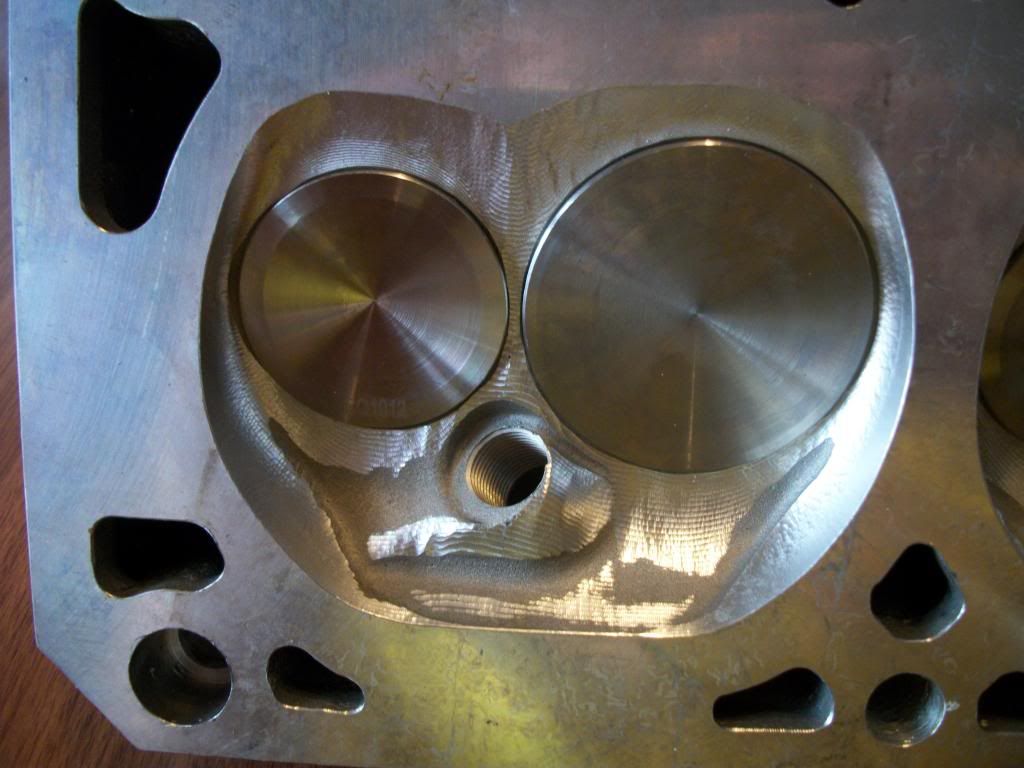 The rest didn't look too bad though.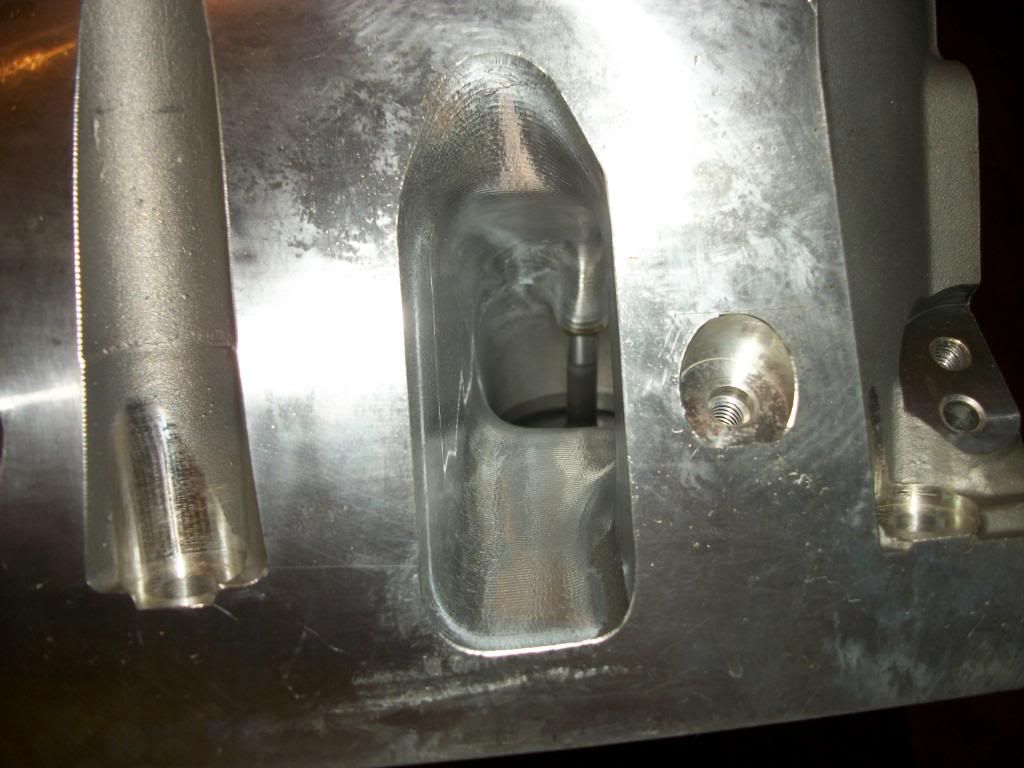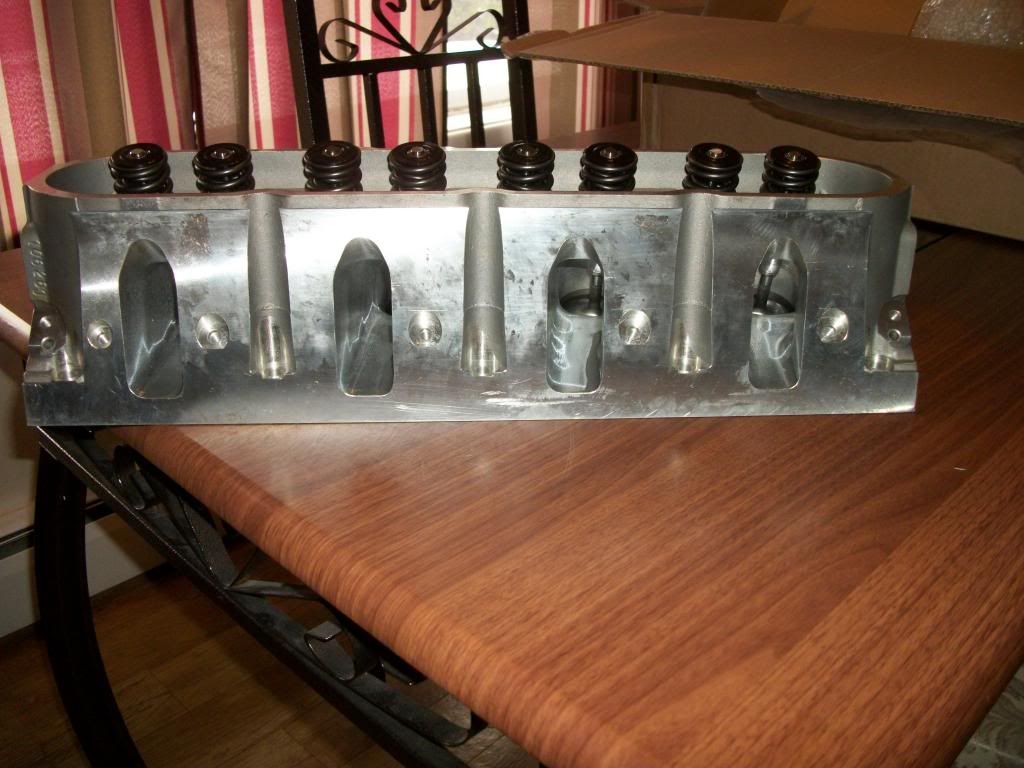 Since the flow numbers are clearly stated in the EBAY ad, I decided to have the heads flowed at a very reputable shop in our area that does alot of Pro Mod work. We wanted to do this for 2 reasons. First, they were for our own car, and second because we wanted to make sure she would be selling what she was advertising. I had them check actual intake CC also. The heads are advertised at 225. They came out to be 240! The actual flow numbers were way off of what was advertised.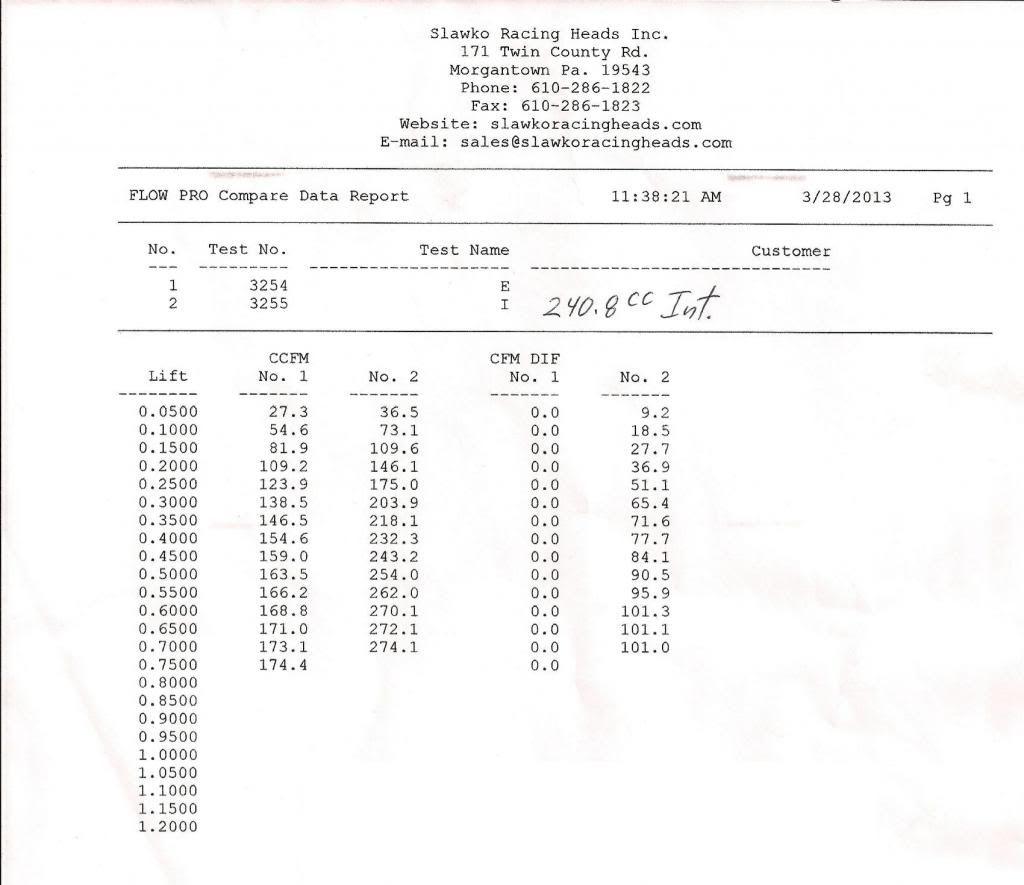 What was advertised as 291/203 @ .600" was actually 270/168! I could understand them being a few CFM off, just because of variances in flow benches, but 35 CFM less on the exhaust?! I was also informed that the valve job was terrible.
She called Procomp to explain what we found and was told, "The numbers in the EBAY ad aren't for those heads." They're for the heads they sell for $610 EACH." She asked, "Well, isn't that false advertisement?" "If THOSE numbers are listed for THOSE heads, they shou;ld flow THOSE numbers." She was reassured they would change the ad (which they still haven't). After talking to her sales rep numerous times, she was finally told there was nothing they could do other than give her her money back. We sent the heads back, and had to chase our money for 3 weeks after they got the heads back in their possession. She had to actually threaten them with the BBB to get it! It tooke her 8 phone calls on 8 different days before thay creditted her account.
Now, I've noticed that the ad on EBAY is constantly reappearing under a different sellers name. I'm guessing this is to keep their EBAY rating up with all the negative feedback. There was a huge amount of deception in the EBAY ad, and from Procomp directly, not to mention poor customer service and an inferior product.
I just wanted to give everyone the heads up so they don't go through the same thing we did, or worse yet, bolt a set of these paper weights on, expecting them to perform as advertised...
Frank