I had hoped to have the '57 Bel Air with stroked LQ4/4L80E going by now, but alas, I'm still running the '82 Camaro Berlinetta LS1/4L60E until that happens.
April 26th, Friday ET series race, I run in classes called "Street ET" (DOT tires required) and "Trophy Jackpot" (a mix of electronics and non-electronics cars, separated until the 4th round, open exhaust, slicks, tranny brakes allowed). I've been season champ in both classes in the past, wanted to get a good start this year (after missing the first race last year - never made up the ground). I did manage to make it to the 4th round in both classes (7 rounds to win in Street, 6 in Trophy), but broke out in Street when I didn't hit the brakes soon enough (after a 25-minute clean-up delay), and gave back the stripe by 0.0012 sec in Trophy when I backed off and shouldn't have (both against much faster vehicles). Good enough for a tie for 6th place in season points in Street, and 3rd place in Trophy (the two finalists weren't signed up for season points, leaving the two semifinal losers tied for first place).
My wife took some video that night, here's one of the better runs:
Last Friday was the "Club Clash" series, area car clubs coming up and running it off against each other. No electronics or tranny brakes allowed, mufflers and DOT tires required. There are actually two classes, 10.50-13.99, and 14.00 & up - I run in the quicker class, which means I usually leave first. Our club is the reigning champions from 2012 (and 2010 and 2011 before that). It was cold with a threat of rain, so turn-out was a little low. We managed a few round wins (team points amassed at 1 point per round win for each team member), but the 3rd round (of 7) took most of us out. One other member made it to the 4th round, I made it to the 5th. I'm tied for 3rd place in that class.
Yesterday was a once-a-year race to which they added a couple of series races. I went out for "King Street", no electronics, mufflers tags & registration required, tranny brakes allowed, ET between 7.50 and 12.75. It was the 12.75 part the concerned me, as I'm right at the edge for that, and won't be able to cut it on a hot day with head wind. I took out the unused seats, spare tire and jack in an effort to reduce weight, which turned out to be successful. I didn't get out to the track until after the 1st time session (of 2) was over, so I entered a "Street Eliminator" class to get another time trial (and see if I could go rounds). In the Street Eliminator time trial, it ran a 12.57 @ 108 MPH, the quickest it's gone at our 5800' elevation. In the King Street qualification time trial, it slipped off the line (a lot of complaints about the right lane yesterday), I was afraid my chance of qualifying had just slipped away, but the timeslip said 12.62 (lost .03 sec in 60' time), so I made the cut - the slowest car that made the field, 67th out of 67. About 6 cars couldn't run the required 12.75. The #1 car ran a 8.88. They ladder King Street first round, and were using a sportsman ladder for this race (will be a pro ladder next race), so I was paired with the #35 car.
They ran Street Eliminator first - I messed up, wasn't watching the cars in the lanes carefully enough, I was at the front of the 2nd set of lanes in the right lane, and was watching the left lane of the other set. Well, there must have been a big gap in the right lane, because there were still 10 cars in the left lane when the right lane cars disappeared from the staging lanes. So, I rushed to get tire pressure checked, decide on a dial-in, still made the other guy wait at the tower, and cut a -.018 redlight - out.
In King Street, I was waiting in the staging area as everybody got paired up, my guy never showed up. Apparently he broke while running in the class before us, so I got a broke single. I prefer the right lane because it's easier to keep track of the faster cars coming up on me. After I staged, I was on the converter for a good 5 seconds, the starter hadn't activated the tree, so I backed off - of course, that's when the lights came down - Didn't get stalled up right again, slipped horrible off the line, way off my dial, but at least I had a win light. Came back for 2nd round, waited again for my opponent, he never showed up, so I got a
2nd
broke single - unheard of. Let some air out of the slicks, hooked well finally, but was red again. 3rd round had a better light against a gal whose Procharged car slowed down with hot lapping, so another win (even though I was off my dial again). 4th round, the other guy went red, I had an okay light and was closer on my dial. 5th round didn't have a very good light, but it was almost half the other guy's, so backed off to another win. 6th round, I'll let the timeslip tell the story (right lane).
Went home with this: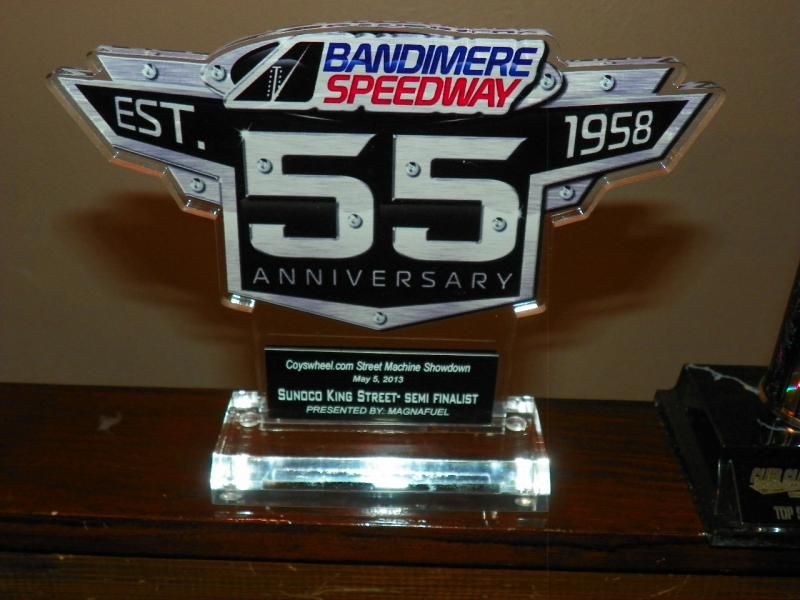 Good enough for 3rd place in season points after the first race.
In all, I've had 15 round wins so far this season (15/20 round record). 6 wins by red light, two more by no-show. That's over half the wins without having to worry about the finish line. That's just nuts.
Back to the Friday ET series this weekend. After that, no racing until the 24th (maybe I'll be able to use the time to get the '57 running).