dropping the compression ratio
---
As some of you know I've been working on a roots blower setup for my car. Everything I have fabbed up is working flawlessly now but I've come to the conclusion that it just aint gonna run on the stock compression ratio. I've gotta get it lower. I know the easiest way would be to put thicker head gaskets on but that will open up the squish area quite a bit and make the detonation problem even worse probably. My only option other than that (with the exception of pulling the motor) is to hog out the combustion chambers. I was just wondering if anybody knows how much someone like Loyd Elliot hogs the combustion chambers out when they unshroud the valves?? I was using the CR calculator at the top of the page and according to it I need to hog them out to about 73 cc to get it down to an 8.5:1. I know some aftermarket heads are 76cc, I'm just curious if I have enough material there to hog it out that much. Any of you guys that have had head work know what yer cc's were??
---
96 Trans Am M6: 52MM TB, LT's, true duals over the axle with Hooker Aerochamber mufflers, Granatelli LCA's and Panhard rod, SLP shifter, 9" with 4.11, Mickey ET streets......oh yeah, a roots blower that fits under the hood
currently working on roots blower kits for the F-Body, stay tuned..........
http://s12.photobucket.com/albums/a2...nt=exhaust.flv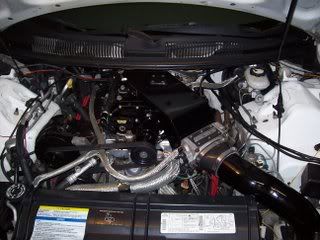 The most i have seen from cc work, including polishing everything is 62 on a stock head.
---
03 Z06, LTs, A&A P1SC running 6psi, 550/471
Quote:
drivers side is a dream....passenger side on the other hand...i lost 2 screwdrivevers and a socket when i chucked them in the woods

u can do it
I am permanently banned from all petting zoo's for getting to friendly