Regular Member
Join Date: Jun 2011
Posts: 28
LT1 Intake (carb) on LT4 heads 383 UK Build
---
Hi guys

Im over here in England soon to be starting this 383 build. I bought a load of bits job lot and the time has come.

Its an LT1 block with the LT4 top end kit and hot cam.

The hot cam isnt hot enough for me so I'm going with a Lunati 60123 with a holley 750cfm dp that ive located over here in the uk. Im looking for over 500Hp

Digressing from the topic title though, even though I have the Lt4 efi intake I dont want to run Efi. My ecu and wiring is sat in my car at the moment and I want to keep my car running. Furthermore emmisions dont concern me as this engine to build is primarily for the strip. Running an Ecu by and large just annoys me and I want the simplicity of being able to tune this thing in my garage out of any vehicle for now.

So I spent ages looking for an Lt4 carb intake, found one, then got let down. As we all know they dont make them no more but can get the Lt1 intake from summit, jegs etc.

Having done my research the only real difference is 0.01" on the intake ports. The lt4 cant be used on an Lt1 but the Lt1 can be used on the Lt4 with modification. People have done this. What i was wondering though is can i get a thicker intake gasket? I mean 0.01" is so marginal anyway, and id rather that than welding or whatever else people have done. Any thought? If no gasket, who has done this and what were the problems if any?

My build btw is

Srp 4.020 forged pistons
Eagle 6" rods
Cola crank
Lunati 60123 hydraulic roller cam with beehive springs 1.6 rockers and chromoly pushrods
Holley 750cfm d/p
Whatever longtube headers I can get hold of
Lt1 carb intake
Lt4 heads
Msd ignition system no more floptispark for me

Cheers
Regular Member
Join Date: Sep 2010
Location: Indiana
Posts: 337
---
Black over White '95 with Red/Dark Grey interior T/B bypass / LT4 HotCam / 1.6 RR / LT4 Knock Module / .030 over / Fresh rebuild / Rebuilt M6 / Electric water pump / Solomon Tune / Powder coated stock intake/ Wrapped Shorty Headers
Regular Member
Join Date: Jun 2011
Posts: 28
Ive seen that link. so basically I either add material, or can I use a thicker gasket?
I don't think a thicker gasket is going to help. The height difference in the ports is significant. In this pic I took the big (7777) LT1 gasket and held it up to my LT4 heads. You can get a pretty good idea of the difference.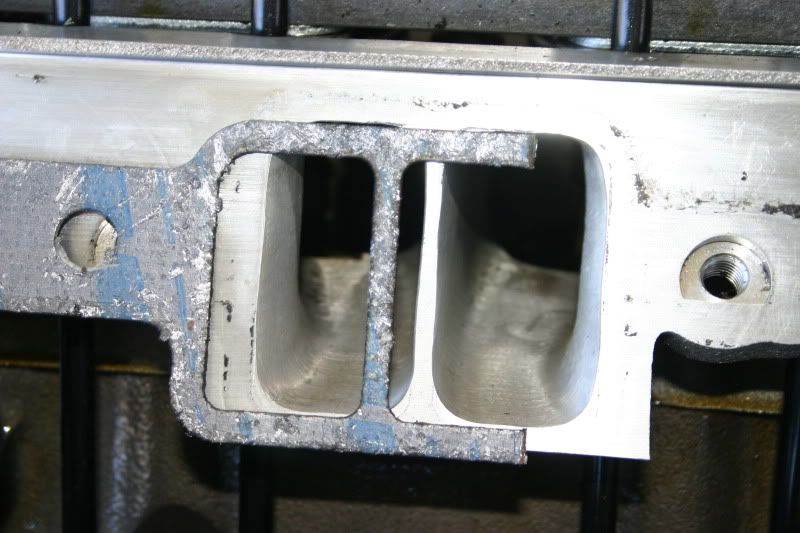 The Victor Manifolds from Edelbrock have enough meat to allow the porting to get them to match as does the dual plane Performer RPM.
Here is a view of my engine I'm tearing down to give you a little perspective. This is the big LT4 gasket. Notice the difference?
Are you going to drill the intake or drill and tap the LT4 heads? I prefer the head method. You're going to need some tapered washer like these to get your bolts to sit flat. The angles for the undrilled holes are different.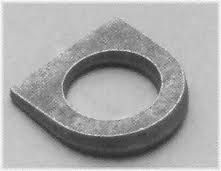 Other than that you seem to have the build figured out. Most Beehives are limited to .600 lift and the 123 Voodoo cam (I really like it) will be a little over that with 1.6 rockers. Lunati lists those cams at 1.5. I know the Beehives won't last very long with a high lift cam like that. Just ask me how I know.
You may want to consider a set of dual springs and I've had great success with the Patriot Gold Extreme springs set up at 1.8" installed height. Plenty of seat pressure and around 400#'s open. I personally think that dual springs are safer also. If a Beehive breaks you're done. Valve for sure and maybe an engine too. Many times a dual spring will just start bouncing around causing really bad float but your engine will live if you shut it down right now..
The Lunati 60122 can easily hit 500 HP and still have a usable bottom end. I know you said primarily track but the 60122 will be great for any street driving that you do and a lot easier on your valve train. Both are superior to the Comp XFI 280 or the XFI 292. I have made 500 HP with the 280 Comp but I have never tried the 292.
This whole post is based on what I've seen and done. Not what I heard from somebody.
Good luck on your build and you really sound like you've got a plan.
Regular Member
Join Date: Jun 2011
Posts: 28
Thats the best reply I could ever have hoped for. Yeah I'll admit I'm leaning towards the 60122 because as you say easier on the valvetrain and I know how it is, you think it'll be a race car but then end up stuck in traffic on the motorway.

I see theres a big difference in those gaskets and I wish I could get that Lt4 intake but theyre just impossible to find. The supervic or any such intake is a good idea. Being over in the 51st state here if I order something then thats it its not going back. The good thing is also I have the 2 injection intakes to see the differences/alignment. I know its a pain fitting an Lt1 carb intake but once its done its done, no more of that Efi put me in limp mode and generally annoy me crap. Many thanks once again. Good idea on the springs too, much better to have the back up.
Quote:
Hi guys

Im over here in England........I spent ages looking for an Lt4 carb intake, found one, then got let down. As we all know they dont make them no more.......
I may be compelled to part with mine.
The question.....how to get it to you in England?
PM me if interested.....maybe we can work something out.
KW
---
1995 Impala SS, Heads/Cam LS3 Conversion
1996 Impala SS, 398ci Solid Roller LT4
2014 SS Sport Sedan, 429ci LS3