Regular Member
Join Date: Jul 2006
Posts: 4
OverHeating Boil Over
---
New here been reading alot on overheating because its my problem now.
1994 Formula (LT1) getting boil over out the coolant reservoir. Thinking Blown Head Gasket on conpression side. But, what does everyone think
Replaced Radiator & hoses new, water pump new, radiator cap, low coolent sensor on radiator, new plug wires, installed fan mod ( switch green & red lights working ), thermostat new ( have not run with one for a while ), reverse flush to clean engine out check for clog. still getting boil over. if idle takes about 15 mins to boil over, run fans on high only at idle possible double that time. Car idles like a kitty, no misfire's or roughness, engine runnig fine.
Driving car boil over starts alot faster of course but highway speeds with fans on can keep temp down. only thing have not done is bleed cooling lines as read here. Thinking head gasket on conpression side when temp around 210 or just over with radiator cap off water moving with the idle.
---
Last edited by nick1of7; 07-19-2006 at

03:16 PM

. Reason: add title
Bleed the system first before anything, the LT1 isn't the syphon type so any air stays there till you manually bleed it out.

Sara Lou
---
Just because i'm paranoid, doesn't mean they're not out to get me!!!!

'87 Camaro, 305 V8, 'work in progress' (gone, but not forgotten!)
'94 Firebird Formula, 350 LT1, daily driver (The new 'work in progress'!!).
'88 V6 Camaro, (also gone!).
mine was doing the same thing,and I literally tried everything,water pump,radiator,thermostat,all the hose's,forward and reverse flush,radiator cap,I even had the system pressure tested,the difference in mine and yours is mine doesn't heat up until,I get in a drive through,or stuck in traffic,I was loosing coolant till I put a half a bottle of stop leak in(not proud of)you say it heats up within 10-15min,how does your water and oil look,do you have any white smoke or steam coming out the back,if it is heating up that quick it probley is a head gasket problem,do you lose any coolant
Regular Member
Join Date: Jul 2006
Posts: 4
not getting any steam or white smoke, no water in oil. have been driving to and from work 20 miles on hwy with fan switch on low temp seems to stay around 170 i have not let it get pass 180 yet if starts to get there turn fan on high and as of yet has not passed 180 temp
Exactly how hot is the car getting? These cars are designed to run hot (around 200 give or take) unless you put a colder T stat in them. If there's no smoke and no water in the oil I'd say you just need to bleed it.
---
96 Trans Am M6: 52MM TB, LT's, true duals over the axle with Hooker Aerochamber mufflers, Granatelli LCA's and Panhard rod, SLP shifter, 9" with 4.11, Mickey ET streets......oh yeah, a roots blower that fits under the hood
currently working on roots blower kits for the F-Body, stay tuned..........
http://s12.photobucket.com/albums/a2...nt=exhaust.flv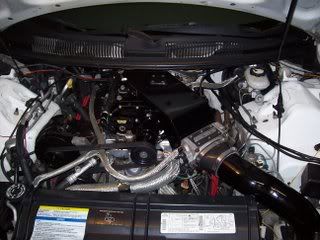 if your only running between 170-195 your car can't be overheating mine usually runs between 185-210,if I am driving at a constant speed 45-55mph the my car usually dont get above 180,but if your car is boiling out of the resevoir you do have problem somewhere my haynes book said that boil over is usually a result of overfilling the system,but I agree with what above says these cars are made to run hot 220-235degrees,like I said last time,I tryed everything short of getting rid of it,I just learned to live with it,I hope this info is helpfull good luck with it,oohh yeah another thing you can try is turning your heat on high,it seems to help cool mine down when the temp gets a little to high for my comfort
Regular Member
Join Date: Jul 2006
Posts: 4
been 2 wks and been running good with fans on either low and high in traffic keeping temp aroung 170.....real test did not run fans let the pcm do all the work and boil over... Compress side head gasket still my gut feeling...will try bleed....But this will give me time to restore and fix up what i want to do...$1295 complete rebuild of motor...may slip in some aftermark parts a bouns...ram air ect....

thanks will keep everyone updated
Quote:
Originally Posted by nick1of7
$1295 complete rebuild of motor...may slip in some aftermark parts a bouns...ram air ect....

thanks will keep everyone updated
I know my question isn't really your starting topic but is the $1,295 for parts and shop work? Certainly no one would do the labor and parts for that???
---
There's no substitute for experience...
1995
Z28
A4
Onyx
ZEX
n2o,Hyfire685,Hooker CB,BadlanZHPE CO,CAI, SFC,Pacesetter,GM HCK, Zexel ,160°,TCat,ScanMaster,10spoke,HarwoodR/A,SSwing
2001
Z28
M6
NBM
..
LS6 H/C,TimingTuner,Innovate LM-1*LMA-2,n2o,SFC,SLP LM & Lid,CAI,Pro5.0,160°,ScanMaster,SS H/W,ZR1wheels,Vogtland lowered
You can buy test kits to check for presence of exhaust in the cooling system.
Regular Member
Join Date: Jul 2006
Posts: 4
$1295 is the parts and labor for rebuild....after I pull motor and strip down to creat engine...they replace all parts pistons ect. check heads for cracks or damage clean rebuil...3 to 4 day turn around.
Regular Member
Join Date: Nov 2005
Location: So California
Posts: 261
mine runs at 1/2 while driving, maybe a little cooler, and between 1/2 and 3/4 when idling.
---
My car did the exact same this Nicks is doing. I talked to the engine guy at my work. Which has been the engine guy there for 35 years, and he told the head gasket was split adn pumping exhaust into the cooling system. i of couse did'nt belive him because I never lost any colant and the was no water in my oil. But belive it I did when i finally got tired of it and pulled the heads and sure enough the back corner by the #7 piston was split. Pretty werid if you ask me. Decided to overhaul the motor and add some goodies and problem fixed. Good way to check for this problem is to check your cooling system pressure. If pressure is to high your pumping air in somewhere. Hope this is somewhat helpful!

scooter0803
Regular Member
Join Date: Sep 2006
Posts: 15
another thing that will do this is the wrong radiator cap. i think it takes a 19#